---
Eleri Spencer
Pretty much all the more fun stuff with Singleblade centres on the daughter side – with highlights on www.eleripaddles.com
---
Eleri has always been at the heart of Singleblade – driving the agenda with her interests, using her experiences to throw new light on familiar issues and offering challenge and solutions on pretty much every front.
Following years of behind the scenes involvement with projects in Norfolk and fun times everywhere from Open Canoe Sailing Group (UK), through Kringelfieber (Germany) & CCB Tours (Austria) to the Open Canoe Festival (France), Eleri has recently become hugely active within Pennine Canoe & Rowing Club.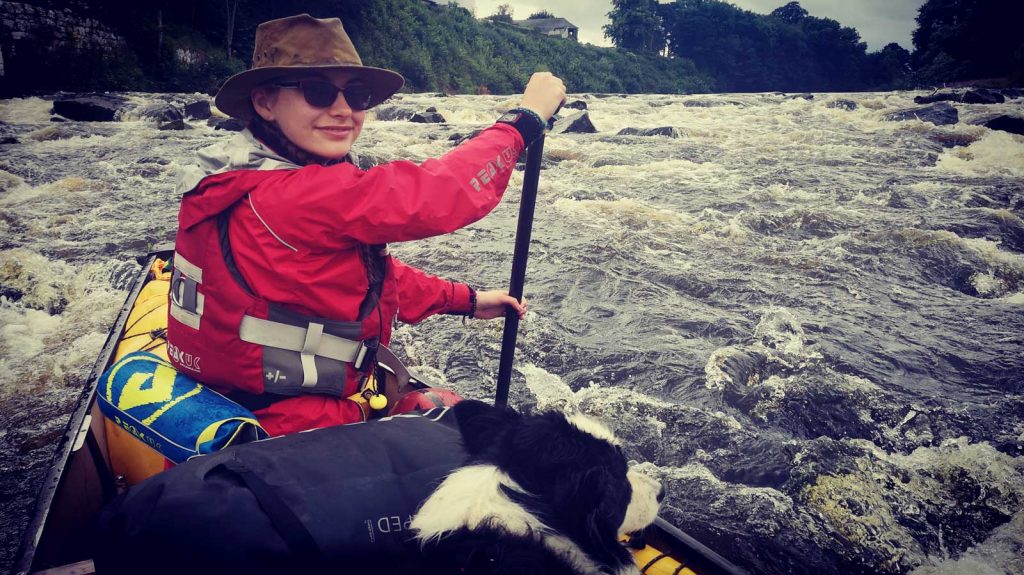 ---
Aside from finding fun ways to enjoy herself in pretty much any kind of canoe, kayak or raft, Eleri's spent many years guiding, coaching and delivering workshops at international events.
---
---
Greg Spencer – Founder – Guide – Coach Developer – Etc!
---
Greg has been involved in adventure sport since the 1970s, and adventure sport coaching since the 1980s. He is an American Canoe Association (ACA) instructor and a British Canoeing coach, as well as being UK representative of the ACA & Head Coach at Pennine CRC and a specialist in canoe sailing.
---
In an eclectic career, Greg has also had decades of off-on engagement in mainstream sport – the highlight of which was perhaps building community tennis in ways which engaged 4-5 year olds and supported journeys through which youngsters could find community tennis a stabilising influence on life (compare Stebbins on Serious Leisure)
---
Broader Profile
Highlights of a journey that has taken many directions have included spells as an Active community leader (1980s-present), as a Volunteer Coordinator (1990s-present), as a Researcher / Writer (1980s-present), as an Event Coordinator (1980s-present), as an Outdoor Pursuits / Adventure enthusiast (1970s-present) and as an Instructor / Coach (1980s-present).
Additional background spans Environmental Education (UK and USA), practical Conservation (UK), "Living History" (USA) and Schools / Early Years Provision (from day to day administration to senior strategic and operational roles).
---
---
Current Roles
Greg currently serves as Vice Chair of British Canoeing's English Forum and as Regional Development Team Chair for British Canoeing in Yorkshire & Humberside. He's also Area Coaching Representative for British Canoeing in West Yorkshire and as a member of the Open Canoe Technical Group.
Although he's now stepped back from a leading role within the Open Canoe Association and as a Trustee of the Open Canoe Sailing Group, Greg continues to serve as Head Coach of Pennine CRC & a as Freelance Coach / Coach Developer.
---
Services
Although most of the work featured on this site gets completed wearing volunteer hats… commercial work continues to sit in the background. If something featured here suggests we might find working together worthwhile… get in touch!
---